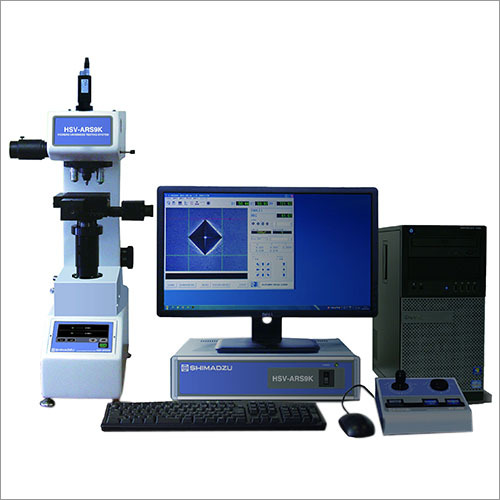 Vicker Hardness Tester
Product Code : HSV-ARS9K
Product Description
We have established a reputation for ourselves in the market as a trustworthy supplier of Vicker Hardness Tester. This is precisely manufactured using the finest grade materials under the guidance of our experts. It is designed for different load ranges and offer various degrees of operator convenience. Moreover, this Vicker Hardness Tester is available in various specifications at discount prices.
Features:
Easy to operate

Robust structure

Steady performance
Most Advanced System with High-speed Sample Profile Memory Function
High-speed, High-accuracy, High-repeatability, Easy-operation, Improved
Reading Function
More Reliable for Large Quantities of Testing without Human Error
A series of measurement operations : Continuous Indentation ~
Focusing ~ Reading ~ Data Record :Just by selecting a measurement pattern, all testing will be fully-automatic with high speed.
Capability of Reading unclear Indents on un-mirror surface has been improved by more advanced Data Processing Software.
Various Data Output Format and statistical Processing
RELATED

Automatic Reading System

R 90 : (CCD Camera/ PC/ AR 90 Software)
* Capable to adapt to the existing FT Micro/Macro Vickers Hardness Testers

AUTOMATIC
SYSTEM

Automatic Reading System
with Motorized X-Y Stage

ARS 900 : (Auto-Reading/ Auto-Stage/ PC/ Motor Driver/ ARS 900 Software)
ITEM

SPECIFICATIONS

STANDARD SYSTEM
COMPONENT

Analog Vickers Hardness Tester Model: HSV-100S
(OPTION: HSV-300S, HSV-800S available)
Automatic X−Y Stage & Motor Drive Unit / CCD Camera
Complete set of PC: 17" Color CRT, Mouse, Keyboard, and Joy-Stick with Controller
Standard Software for System ARS 9000
Ink-Jet Type Color Printer

MICRO
HARDNESS
TESTER

TEST LOAD

A: N: 9.807, 19.61, 29.42, 49.03, 98.07, 196.1, 294.2, 490.3 kgf: 1, 2, 3, 5, 10, 20, 30, 50
B: N: 2.942, 4.903, 9.807, 29.42, 49.03, 98.07, 196.1, 294.2 kgf: 0.3, 0.5, 1, 3, 5, 10, 20, 30

OBJECT LENS

— 10 & — 20 (Optical Parts for 3rd Lens Built-in)

AUTOMATIC
READING

MEASUREMENT
REPEATABILITY

±0.8% on Test Block 800HV/ 10 kgf

OTHER
FEATURES

PRINTER

Standard: Color Ink-Jet Type

JOY-STICK

For X · Y · Z axis Movement/ Standard: Digital Type

SAFETY DEVICE

Safety Devices equipped for Unmanned Operation
* Turret Rotation stop instantaneously in case of Object Lens or Indenter hit a Specimen.
* Upper & Lower Limit Stopper are equipped against Uncontrollable Stage Elevation.
Contact Us
Plot No. 2, Sethi Chamber, DDA Local Shopping Centre, M.O.R Land, New Rajinder Nagar, New Delhi, Delhi, 110060, India
Phone :+917042352279