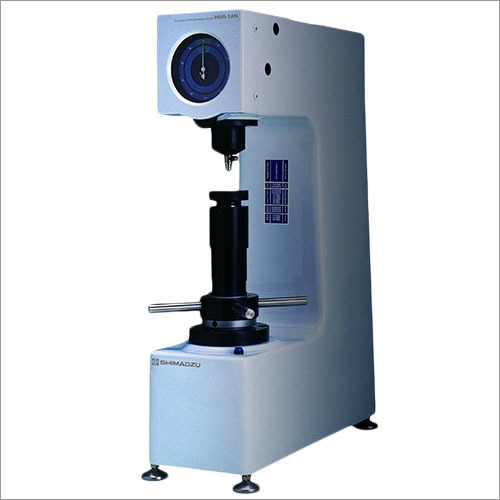 Rockwell Hardness Tester
Product Code : HSR 1AN
Product Description
We are one the leading choice in terms of supplying optimum quality Rockwell Hardness Tester. This is used as a general method for measuring the bulk hardness of metallic and polymer materials. It is efficiently manufactured by our team of deft vendors using the finest quality materials in accordance with set industry standards. Further, we are offering this Rockwell Hardness Tester to our clients at cost-effective prices.
Features:
Enhanced durability

Space saving design

Robust in construction
Hardness conversion for many scales are displayed on the panel in compliance with SAE (J-417b) and ASTM (E-14). (Except HSR-1AN)
Capable to set upper and lower limits and judgement of acceptance for measurement is displayed as OK/NG. (Except HSR-1AN)
PLASTIC MEASUREMENT MODE AS STANDARD FUNCTION
Specific measuring method for plastics in compliance with ASTM and JIS is activated by one-touch easy operation. (Except HSR-1AN)
In AUTO measuring mode test load is automatically applied once the minor load has been set (290.0 to 299.9 on the digital display).
Automatic load application does not start if the minor load exceeds the range (over 300.0 on the digital display). Manual start is also capable. (Except HSR-1AN)
ITEM

SPECIFICATIONS

MODEL

HSR-X1

HSR-X1L

HSR-X2

HSR-X2L

HSR-X3

HSR-X3L

MAX. SPECIMEN HEIGHT

255 mm

435 mm

255 mm

435 mm

220 mm

405 mm

MAX. SPECIMEN DEPTH

165 mm

DIMENSIONS

HSR-X: W 196 — D 487 — H 820 mm/ HSR-XL: W 196 D 487 — H 965 mm

WEIGHT

82 kg

87 kg

80 kg

85 kg

83 kg

88 kg

POWER SUPPLY

Single phase AC 100 V, 50/60 HZ in Japan and AC 100 to 240 V, 50/60 HZ available for Export Model.
Contact Us
Plot No. 2, Sethi Chamber, DDA Local Shopping Centre, M.O.R Land, New Rajinder Nagar, New Delhi, Delhi, 110060, India
Phone :+917042352279