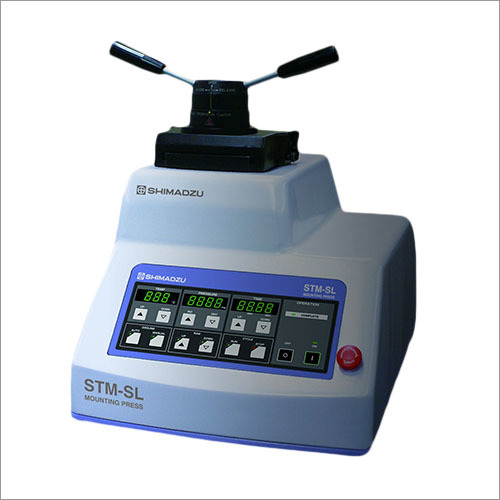 Mounting Press
Product Code : STM-SL
Product Description
To cater the exact needs of our customers, we are instrumental in offering an excellent quality array of Mounting Press. This versitile mounting press is designed for users with high variety in the lab. Under the visionary supervision of our vendors, this is efficiently manufactured by making use of quality tested materials. In addition, this Mounting Press can be purchased from us at highly reasonable prices.
Features:
Excellent strength

Enhanced durability

Best way to mix very heavy and abrasive products
CPU Control Full-Automatic Hydraulic System
Space-saving desk type, lightweight compact body.
The running time is greatly shortened by quick heating and quick cooling.
Fully-automatic one cycle (pressurizing, heating and cooling) operation.
PreciMount series has the Adjustable Cooling Function which helps to make perfect condition of moulding sample with Thermoplastic resin (Lucite) and Thermosetting resin (Bakelite).
ITEM

SPECIFICATIONS

MODEL

STM-EVO

STM-SL

Design / Structure

Bench Top Type/ Solid Aluminum Frame+Hard-Coated FRP Cover

Machine Top Mould Cap

Back & Forth Slide & Flip Motion Type Mould Fasten Cap:
Convenient Interchangeable Mould Cap and Easy Cleaning.

Bore and Mould Size of Cylinder

Standard: ø50 mm Base Cylinder + Additional Cylinder OPTION:
ø25, 30, 32, 40 mm, 11/2" (38.1 mm)

Pressure Method

Adjustable Setting between 0 to 14500 psi (0 to 1000 bar) by 10 psi.
Set value is kept by automatic control while a sample is being made.

Adjustable Setting between 1200 to 4500 psi (82 to 310 bar) by 10 psi.
Set value is kept by automatic control while a sample is being made.

Heating Time

0 to 59 min. (set by 30 sec.)

0 to 99min. (set by 1 min.)

Heating Temperature Setting
(Selectable C and F)

0 to 200°C (set by 1°C) /
32 to 392°F (set by 1°F)

50 to 200°C (set by 1°C) /
122 to 392 °F (set by 5 °F)

Heater Capacity

1800 W

Cooling Time

Cool-down Time according to Preset Cylinder Temperature (0 to 200°C/ 32 to 392°F).

Cooling
System

External Water Supply

Min. Pressure of Water Supply: 2 L/ min.
Through 2 Hoses connected to Taps on Rear of Machine

Separate Type
Coolant Tank

Rust-Prevention Type Coolant Tank with Radiator:
Tank Capacity: 30 L/ Pressure of Water Supply: 4 L/ min. (OPTION)

Sample Number in
One Time Operation

25, 30, 32, 38.1, 40 mm: Max 2 pcs

25, 30, 32, 38.1, 40 mm: Max 1 pcs

Control Panel

Color LCD Touch Panel Operation and Display

LED

Pressure Setting, Pressurizing Time, Heating Temperature and Cooling Temperature

Machine Dimensions

W 475 — D 620 — H 635 mm

W 410 — D 600 — H 500 mm

Weight of Machine / Cooling Device

Machine: 83 kg/
Cooling Device: 30 kg (OPTION)

Machine: 94 kg/
Cooling Device: 30 kg (OPTION)

Power Supply

1P AC100 or AC200 to 240 V/ 50, 60 Hz: Changeable

Standard Accessories

Mould Removing Oil: 1 btl/ Phenol Resin: 1 btl (500 g) /
Spoon: 1 pc/ Funnel: 1 pc/ Tweezer: 1 pc/
Coolant Supply Hose: 2 m × 2 pcs/ Accessory Box: 1 pc
Contact Us
Plot No. 2, Sethi Chamber, DDA Local Shopping Centre, M.O.R Land, New Rajinder Nagar, New Delhi, Delhi, 110060, India
Phone :+917042352279