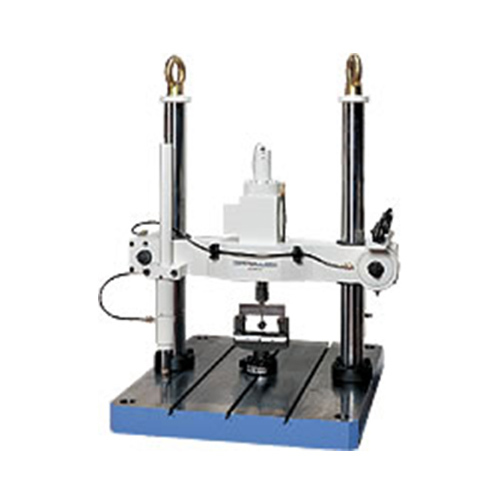 Hydraulic Fatigue Testing Machine
Product Code : 12
Product Description
Hydraulic Fatique Testing Machine

We are the leading manufacturer and supplier of supreme quality range of Hydraulic Fatique Testing Machine. It is manufactured by our vendors using optimum quality materials in accordance with defined industry norms. This is widely used for functional testing as well as endurance testing of actual specimens. Furthermore, our precious customers can avail this Ehf-U Series Outdoor Modification Testing Machine from us at marginal prices in diverse technical specifications.
Features:
High in strength

Robust design

Optimum durability

The spacious testing space accommodates large specimens and allows the attachment of various test jigs and environment control devices.
The highly rigid frame prevents buckling of specimens and saves losses in hydraulic energy due to frame deformation.
The one-touch crosshead hydraulic drive mechanism allowed the crosshead to be raised or lowered and clamp operation to be performed easily by a single handle.
Specifications
Type

U50kN

U100kN

U200kN

Part No.

Frame

344-10042-31

344-10043-31

344-10044-31

Actuator

344-14290

344-14300-01

344-14302-01

Test force Dynamic/Static (kN)

50/75

100/150

200/300

Test stroke (mm)

±25

Eff. column length (mm)

620

675

Distance from grip to mounting flange (mm)

160 to 770

150 to 750

200 to 1200

Crosshead drive/clamp operation

One-touch hydraulic drive/hydraulic clamp (friction fixed)

Rigidity (at 300 mm clearance between crosshead and table) (mm/kN)

0.0025

0.0018

0.0008

Size
W × D × H (mm)

1070—1000
—1530

1070—1000
—1600

1290—1000
—2400

Weight (kg)

1100

1300

2400
Models with max. stroke of ±50 mm and other strokes also are available.
Models with extended columns (extra 400 mm) also are available.
Models having a table length of 1500 mm and 2000 mm also are available.
Optional stand also is available.
Crosshead drive/clamp operation stand for a U-type loading frame and accumulator are separate.
Evaluation Targets
Fatigue strength/ Hydraulic actuation, Rubber/plastics, Automobile parts/chassis, Metal/machinery, Construction/civil engineering, Ceramic materials and Fatigue strength products
Contact Us
Plot No. 2, Sethi Chamber, DDA Local Shopping Centre, M.O.R Land, New Rajinder Nagar, New Delhi, Delhi, 110060, India
Phone :+917042352279